Tucked into a side street in the On Nut area of Bangkok is a great place to sit back and get a relaxing massage.
Time for a Relaxing Massage!
After finishing a delicious and filling meal with my crew at Best Beef, heading back to the On-Nut BTS I came across an alley full of massage shops on Sukhumvit Soi 79, just one hundred meters from the On Nut BTS station.
I walked down the small street and peered into the large glass windows, inside there were many customers and staff massaging feet and shoulders. A few of the staff were outside the shop and nicely asked me to come inside for a massage.
I left my shoes outside the door along with the other customers and walked inside. Most massage shops in Thailand will request you to remove your shoes before coming inside. This is a custom for Thai people's homes also!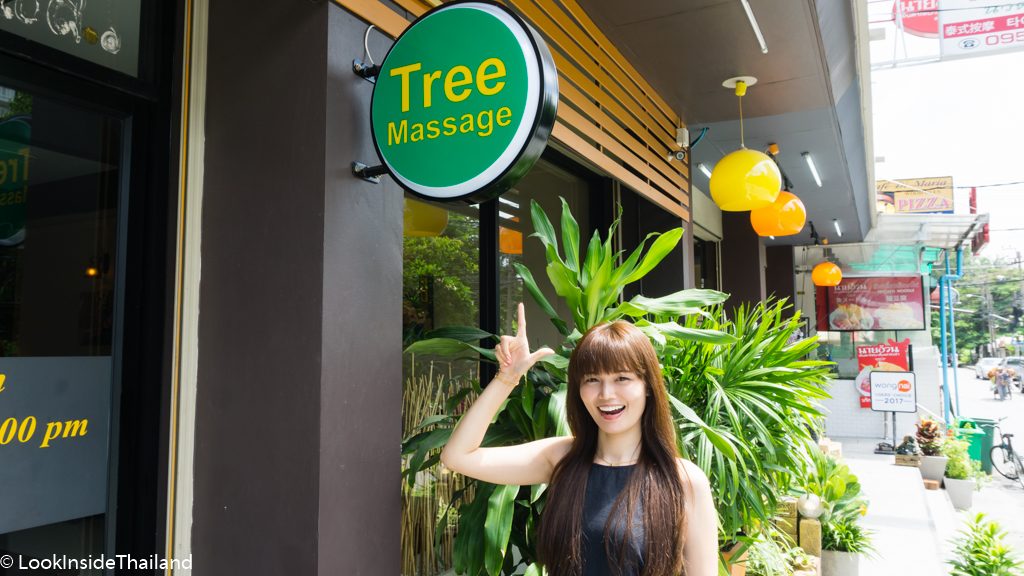 Choosing a Massage
Almost all of the chairs inside were full, but the Tree Massage Bangkok has many massage therapists ready to serve customers throughout the day. I told the nice therapist, Khun Pen that I would like a one-hour foot massage.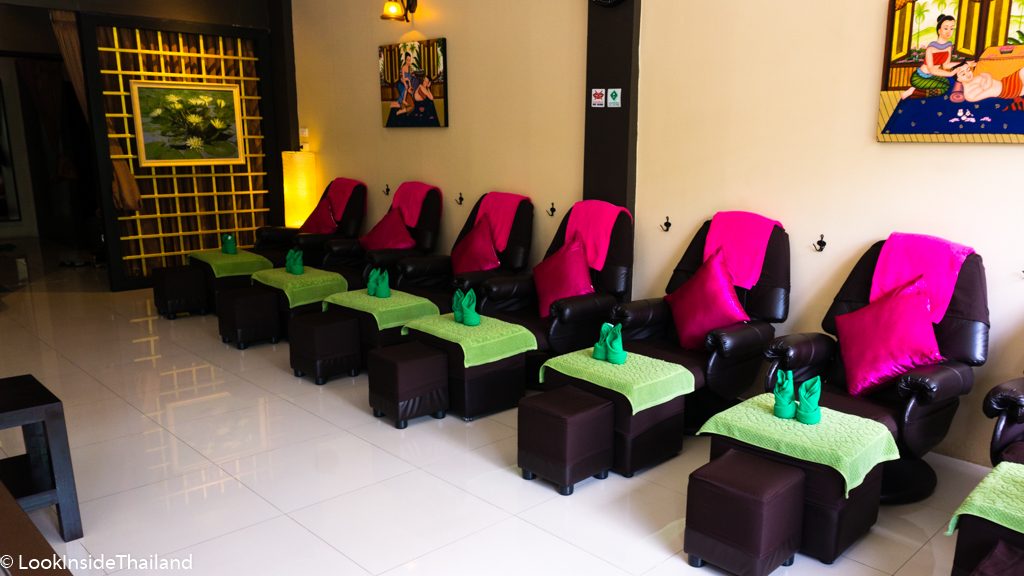 This was my first visit, so I went with the basic foot massage.
I like to do it this way because it gives me a chance to see how good of a massage I will get before I try bigger services like the Thai, aroma, oil or milky.
Service is A+
Before the massage began, I was taken to the back of the shop and sat on a bench with foot baths below.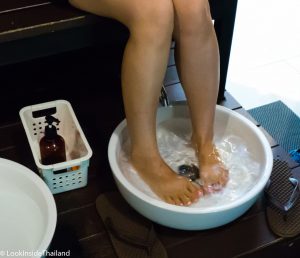 My feet were washed and dried and I was given flip-flops to wear to keep my feet clean.
For the foot massage, I was guided to a comfortable reclining chair, propped my legs up and was given a blanket. Time to get comfortable!
My therapist massaged my feet and legs with an oil and she was so very good! Not too hard and not too soft. It was not long and I knew I had found a winner, having trouble keeping my eyes open, I turn over to see my crew, passed out cold! It is always a good sign when the boys fall asleep means they are really enjoying it, hehe. All the girls did great and paid great attention to their work, I was impressed. I even fell asleep for about 5 minutes! After the massage was finished, I got all the girls names and set up a future appointment for myself and the crew.
Second Visit
Arriving for the second visit and after a short stop at the foot washing station, just like the first time, I was taken to the 3rd floor of the shop. In this large room were rows of padded massage tables, separated by walls and curtains for privacy. The music from downstairs also played in this room and it was dimly lit for relaxation.
My therapist left towels and allowed me to change before coming back in to begin the message. After a lot of walking, a full-body massage is a great way to rejuvenate yourself. If you have never had a massage before, I recommend beginning with a foot massage. If you enjoy it, try the body massage on your next visit. An hour feels so fast when you are totally relaxed and being pampered!
The Milky Massage?
I picked the full body "milky" for one and a half hours, which is an oil and lotion massage that will leave your skin soft and smooth! During the massage, Khun Pen asked me if I had trouble with my left knee, I was surprised because I do from all the walking in search of great places to share with our followers. I replied, "Yes, I do!" and asked how she knew? She said she could feel it as she passed over that area. She began to really focus on my knee and wow did it feel great after she was done! After the massage, you have the choice to shower, in order to remove the oils from your skin. I was given another fresh towel to dry off and shown a clean bathroom and shower with hot water. Finally, I got dressed and headed back downstairs.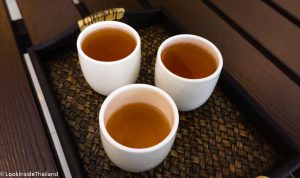 My therapist was waiting on the bottom floor with some hot tea to finish the relaxing experience.
The tea is a perfect way to end the treatment, feeling refreshed and ready to continue the day. I paid for my services at the desk and made sure to tip my therapist for her excellent massage.
The Price is Right!
The prices are very reasonable for a foot or oil massage. The foot massage is 200 baht ($6 USD) per hour and the "milky" massage was 300 baht ($9 USD) per hour. They also have an aroma oil massage for 300 baht ($9 USD) per hour and other services like head and shoulder massage, body scrub and coconut oil massage for 350 baht ($11 USD) per hour.
My Opinion
I would like to give special thanks to the wonderful therapists Khun Wan, Khun Pen and Nong Emmy. I can not say enough about how friendly and professional these ladies are.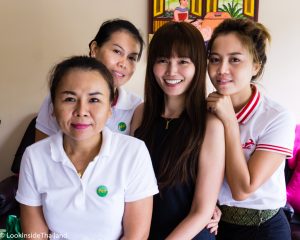 These top notch therapists will have you feeling wonderful and relaxed in no time! If you decide to go visit Tree Massage Bangkok, ask for one of them and tell them Namfon sent you.
Tree Massage in Bangkok is a great massage shop, while hidden away, is conveniently located close to the On Nut BTS station in a nice area of Bangkok. The staff are super nice and all smiles. They are attentive and focused on giving you a great massage. The shop, chairs and the beds are very clean, as well as the bathrooms. The price for each massage is a great bargain when compared to other countries. The number of services offered is great for the first timer or the seasoned massage veteran. I will definitely be back soon!
Stay relaxed!
♥♥♥ Namfon ♥♥♥
Find Tree Massage Bangkok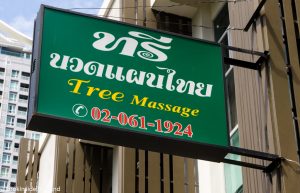 By BTS: Take the BTS to On Nut and walk north on the opposite side of the Tesco Lotus mall to Soi 79 on the right. Tree Massage is located about 30 meters on the left side of the street.
By Taxi: Tell the taxi driver to take you to "Sukhumvit Soi 79" or "BTS On Nut".