Did someone say som tam? My mouth just started to water! The most popular salad in Thailand, som tam translates to "sour pounded". A refreshing, spicy, sweet and healthy dish that is an amazing treat any time of the day. It is one of the signature recipes from Isaan, a large region in the northeast of Thailand where I come from. Here is a simple traditional recipe of the classic 'som tam thai' you can make very fast and easy any day of the week.
Som tam is made from a combination of shredded, unripened papaya mashed together with fish sauce, tomatoes, peanuts, sun dried shrimp, carrots, garlic and Thai chilli peppers. Served on a small plate in a puddle of its own juices with herbs, cabbage leaf and cucumber on the side, it is absolutely delicious.
I hope you enjoy my recipe!
♥♥♥ Namfon ♥♥♥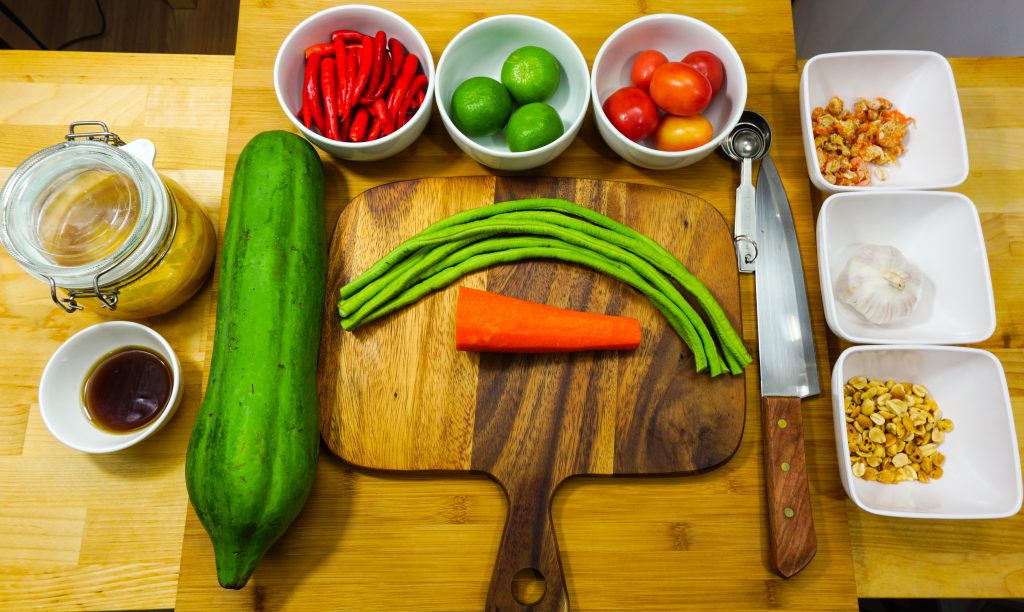 How to Make Som Tam
Suggested items for making som tam
Som Tam (Spicy Papaya Salad) ส้มตำไทย
Serves 2
Prep Time: 30 minutes
Flavors: Spicy, sweet, salty and sour
 Ingredients:
2 cups or 250 grams shredded green papaya
1 half of carrot, shredded
3 cloves of peeled garlic
4 to 6 small Thai chillies stem removed (add to your spicy tolerance level)
6 long or green beans, cut into one-inch pieces
2 Roma tomatoes cut in half and sliced
1/4 cup unsalted roasted peanuts
2.5 tablespoon palm sugar
2 1/2 tablespoons of fish sauce
2 tablespoons of fresh lime
1 teaspoon dried shrimp (optional)
Preparation:
Place the Thai chillies into a mortar and pound roughly for about 1 minute.
Cut and peel garlic add into the mortar and continue to pound 1 minute.
Chop and add long bean into the mortar and continue to pound 2 minutes more.
Add palm sugar to the mortar.
Cut and squeeze lime into the mortar.

Pro-tip:

only squeeze the line one time to keep the peel taste out of the som tam.
 Add fish sauce to mortar mix ingredients together until palm sugar is completely dissolved.
 Drop in the sliced tomato.
Put in the roasted peanuts and mix together do NOT pound.
Add shredded green papaya continue to mix thoroughly.
Plate and serve.