Do you eat spicy? You have to try! Red curry paste is the main ingredient when making traditional Thai curry. It's super spicy! Heat it with coconut milk to make the curry soup and the flavor is sweet, smooth and spicy! If you love Thai food, you must have red curry paste in your kitchen, why not make it yourself?

Red curry paste is made with Thai chilies for a unique spicy flavor and crushed into a paste with other spices and fresh ingredients. Combine the paste with coconut milk and fresh meats or fish and vegetables to make a delicious traditional Thai dish. I love to make Thai curry dishes on cold Thailand days. 🙂
I hope you enjoy my recipe!
♥♥♥ Namfon ♥♥♥
Suggested items for making red curry paste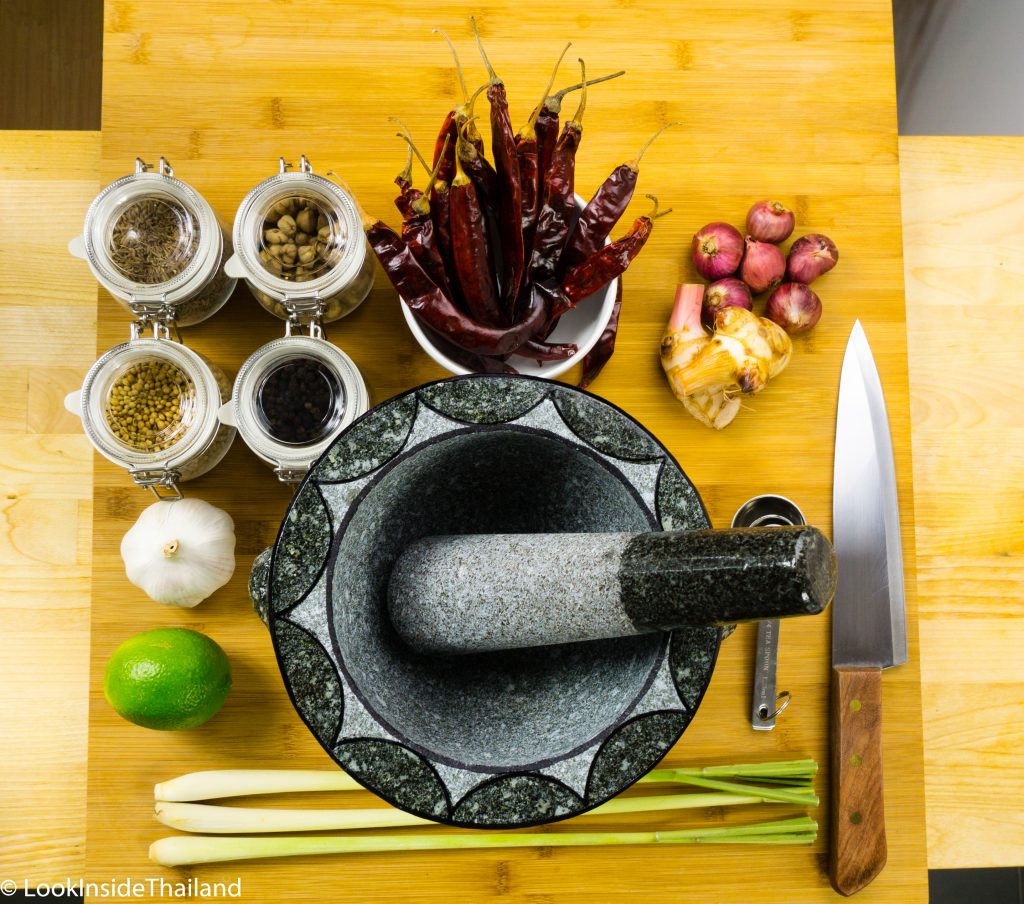 Nam Prik Kaeng Phet (Red Curry Paste) น้ำพริกแกงเผ็ด
Serves 2
Prep Time: 45 minutes
Flavors: Spicy!
Ingredients:
1 ounce (28 grams) of chilies, such as tabasco, soaked in water for at least 10 minutes
2 cardamom, roasted
2 teaspoon coriander seeds, roasted
1/2 teaspoon salt
1/4 teaspoon black peppercorns
1/4 teaspoon cumin seeds, roasted
1 teaspoon ginza, skin removed and well chopped
1 tablespoon lemongrass, crushed and well chopped
1 tablespoon garlic, crushed
1 tablespoon shallots, peeled and chopped
1/2 teaspoon lime skin, chopped
4 teaspoon of oil,

do not use olive or sesame oil
Additional ingredients, if making paste for fish dishes:
1/2 teaspoon ginger or lesser ginger
1/2 teaspoon shrimp paste
Preparation:
Remove the stems from each of the large chilies and place into the mortar or food processor.
If the chilies have not been soaked, add 2 tablespoons of water to soften.
Pound or blend the chilies until it is a smooth consistency.
Add the dry ingredients; coriander seed, black peppercorns, cumin seeds and salt.
Pound the dry ingredients using the pestle.
Remove the skin from the ginza.
Thinly chop the ginza.
Crush the lemongrass with a knife or roller at the base.
Thinly chop the lemongrass.
Remove the stem of the garlic clove and crush with the knife.
Peel the skin from the garlic.
Thinly chop the garlic cloves.
Crush each of the shallots to break the skin.
Remove the skin from each shallots.
Thinly chop the shallots.
Finely slice the skin of the lime.
Thinly chop the lime skin.
Add all fresh ingredients to the mortar or processor.
Pound or blend the mixture until it is a paste consistency.
Bring a medium saucepan to medium heat.
Carefully add oil and the curry paste to the saucepan.
Cook for 1 minute. Remove from pan from heat and allow to cool.
Spoon the paste into a sealed jar.
The red curry paste can be stored at room temperature for up to three months. If refrigerated, the paste can be stored for up to six months.