Let's go to a night market! They are very popular with Thais for meeting up with friends, eating great food, having a drink and shopping! Talad Rod Fai in East Bangkok is a very large night market and a super fun experience!
Bangkok's Train Market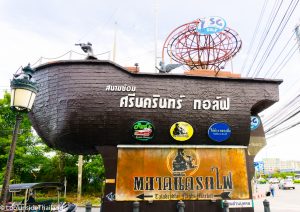 Markets in Thailand are very popular with locals. While we have large beautiful shopping malls, the markets are where we find deals, hang out with friends and eat delicious food.
If it's a Saturday or Sunday night in Bangkok, you need to visit a night market! It's a unique experience and the Talad Rod Fai, translated in English to Train Market, is one of my favorite night markets in Bangkok. The market is located on Srinakarin Soi 51 and is open from 5 pm – 1 am.  The Train Market is walking distance from Seacon Square Mall, and you'll know when you are close! Traffic, and crowds of people walking the sidewalks toward the giant black wooden boat sign that marks the entrance to the market.
I'm here!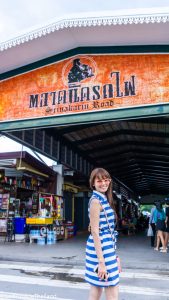 Arriving at the Talad Rod Fai night market will feel like you've just come to a big party in Bangkok. The atmosphere is exciting, fun and energetic. Walking past the ship at the entrance into the market, you pass rows of trendy bars and restaurants on your way into the main market. It might be hard to not stop and get a drink, but just keep walking forward.
When you finally reaching the end of the walkway you'll find yourself coming out of the crowded tunnel into a giant open air market. Full of bright, colorful lights, tents and people as far as the eye can see, then you will know you've made it.
It is smaller than Chatuchak Market but larger than most other markets and it is worth the trip out to Talad Rod Fai. What I really love about this market is it has all the normal stuff like clothes, shoes, souvenirs, but it also has a huge collection of antiques, collectibles and vintage clothing this is what makes it different than many other Thailand markets.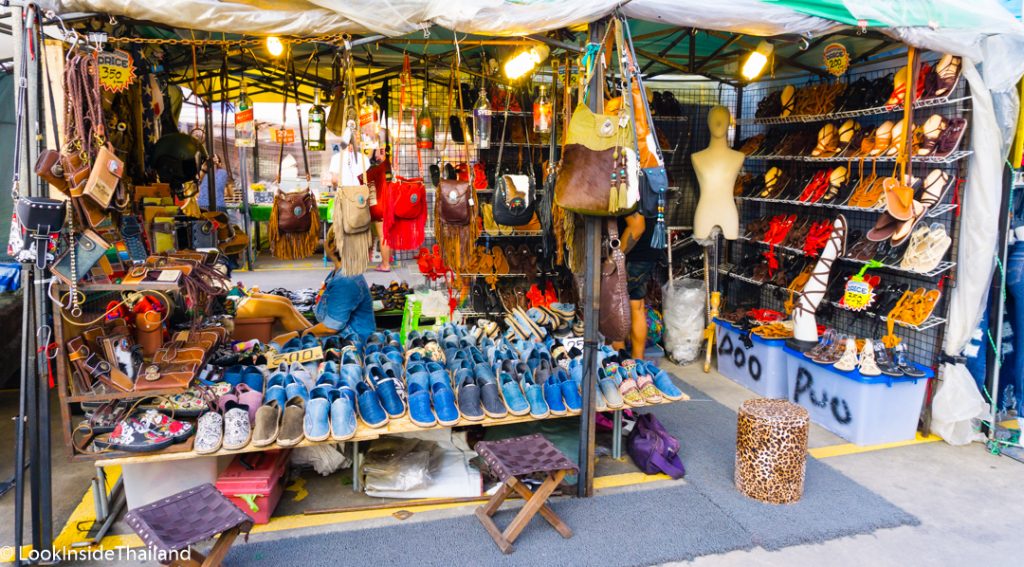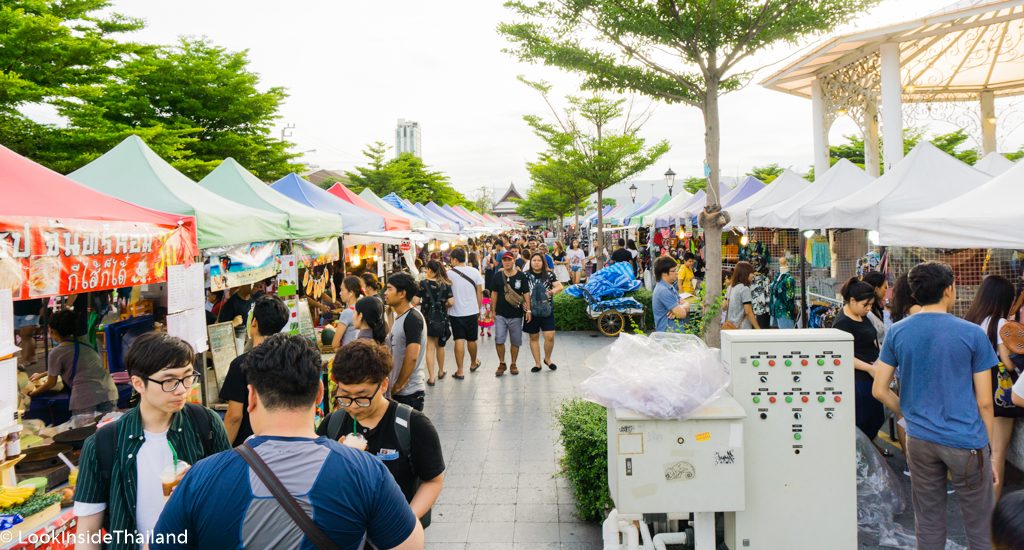 Want to Step Back in Time?
If you like Americana or you are a "Cars" movie fan, the back of the market is themed just like an old Route 66 town. You never know what you will find here. I have seen some very strange things from all over the world in the antique and memorabilia shops that wrap around the outside edge of the market.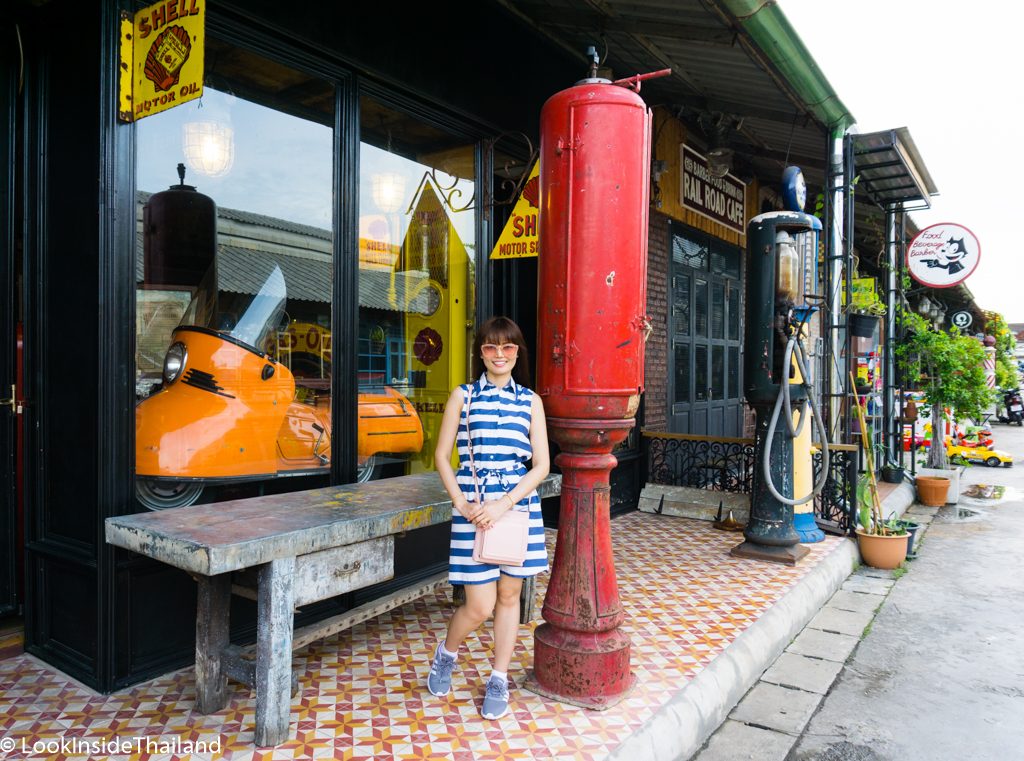 If you are into classic VW's, Vespa's or motorbikes they have some great collections too. I even saw a rat rod in the VW collection area! The vintage signs and the cool classic gas pumps collections are things I have not seen anywhere else in Thailand.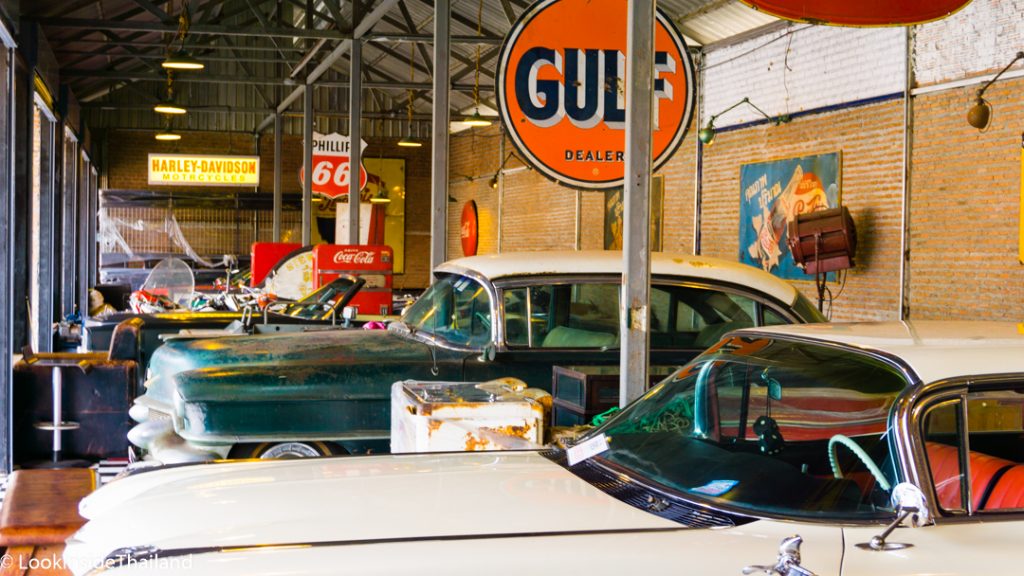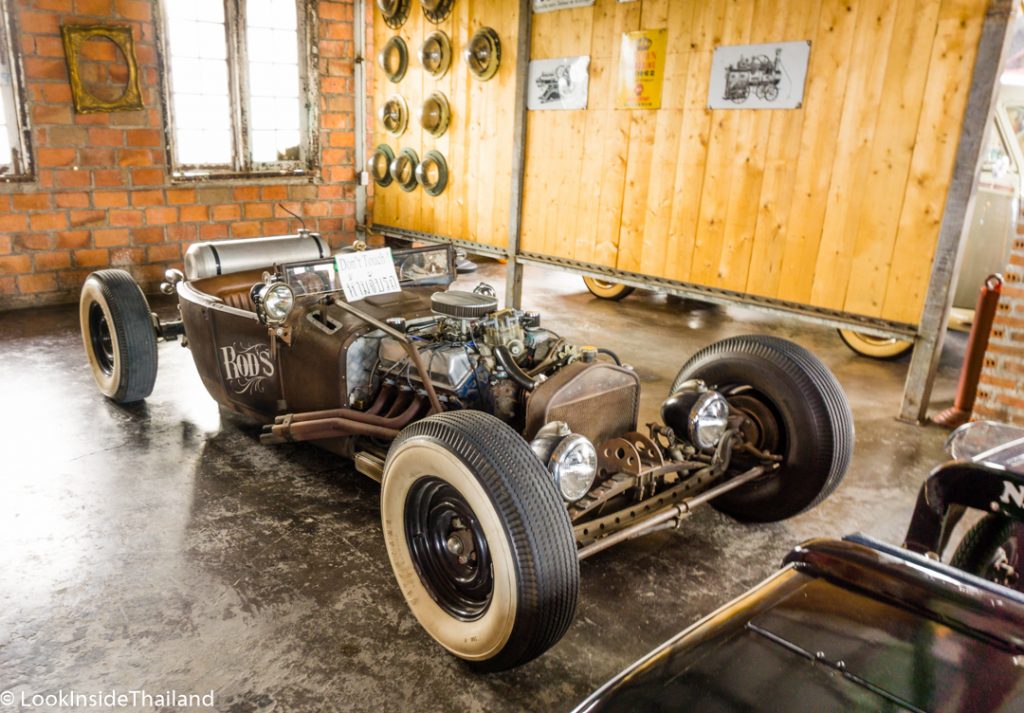 The old fashioned buildings with all the classic muscle cars made me feel like I just stepped back in time. I always get the coolest pictures to post on my Instagram! @lookinsidethailand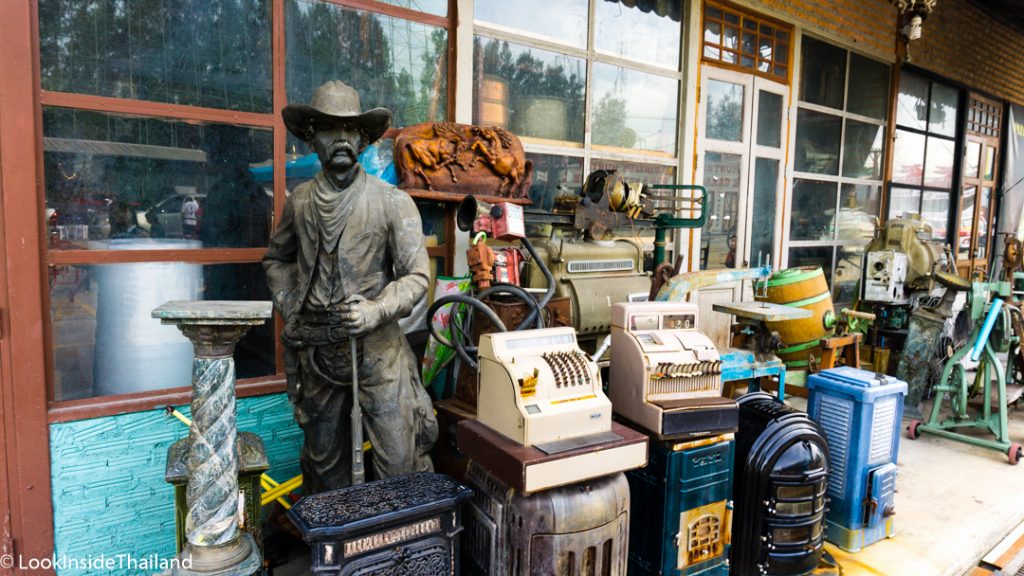 Oh, I'm hungry again!
I know I just ate, but why is it every fifteen minutes I walk by or smell something and 'boop', I am hungry again!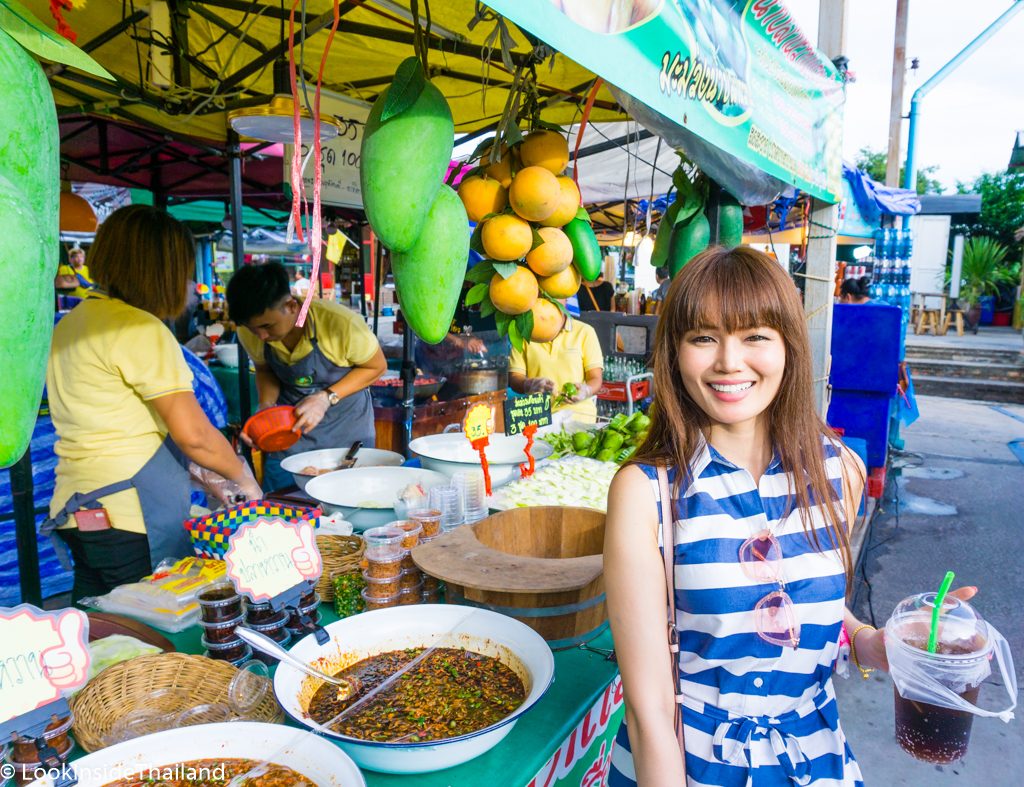 Talad Rod Fai has one of the largest collections of Thai street foods you can find anywhere in Bangkok. So many super delicious food options the selection is almost limitless. They have street food carts, hip biker bars, wine bars and even medium to upscale restaurants.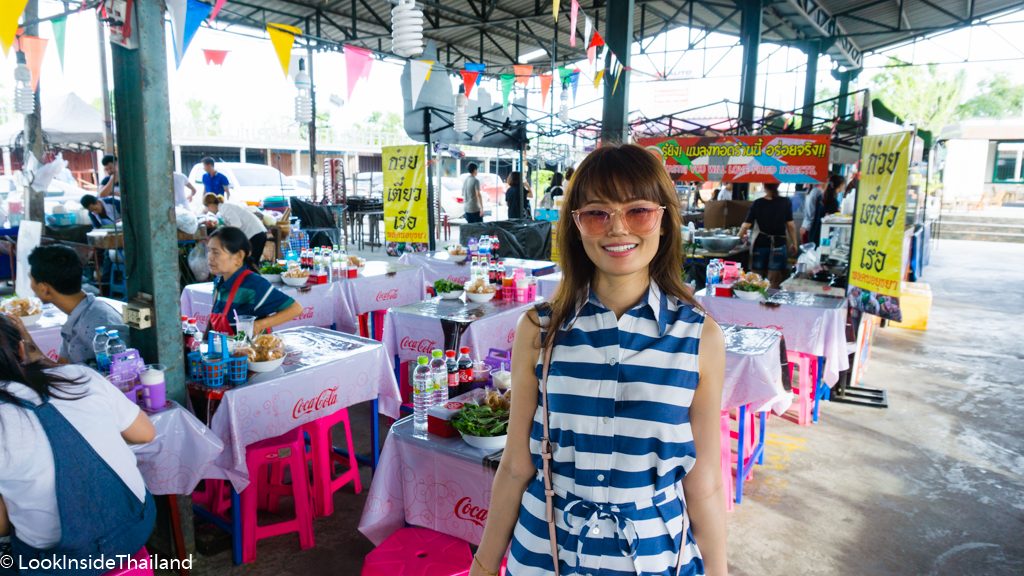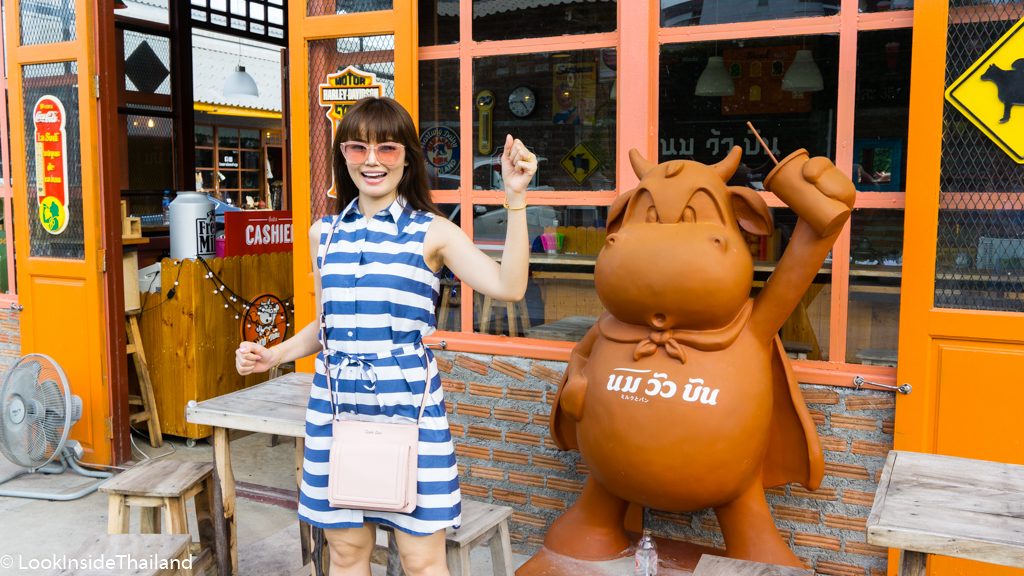 The market's food court here is more than a thousand square meters! Almost nothing can prepare your senses for the smells, sounds, and tastes that sit here waiting for you. If this is your first time you have been to a market in Thailand, you probably have never experienced anything like this before. If you are not familiar with what types of food to expect then check out my blog post on street foods to give you a start.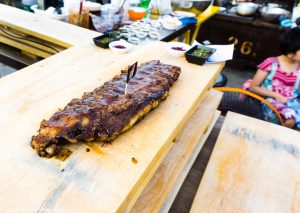 Now it is not just Thai food here, you can get a finger licking rack of ribs, or a good old American hamburger, sushi, pizza you name it you can find it with just a bit of wandering around.
I like to hang out and people watch, and the cool thing about this market is all the open air restaurants that sit all around the main aisles. It is common for them to have live music and all types of drinks including beer towers, but my personal favorite is the delicious milk tower. Just sitting and relaxing listening to a cool band in the warm night heat of Thailand is a great way to spend an evening.
*boon boon*…Where's the train?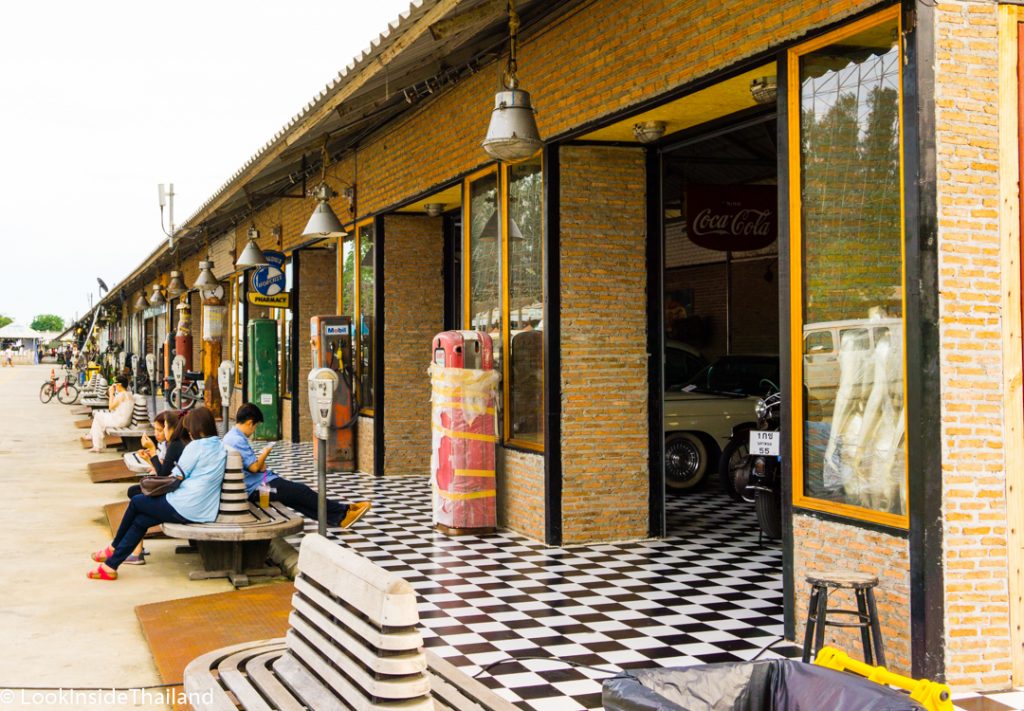 Long ago, Talad Rod Fai was in a different area of Bangkok on land belonging to the State Railroad of Thailand. That land was sold to be developed and the "train market" had to move. Keeping only the original name, the vendors picked up and moved everything to a big parking lot behind Seacon Square. Even though there are no trains anywhere near it, Talad Rod Fai still has the train-themed spirit of the original.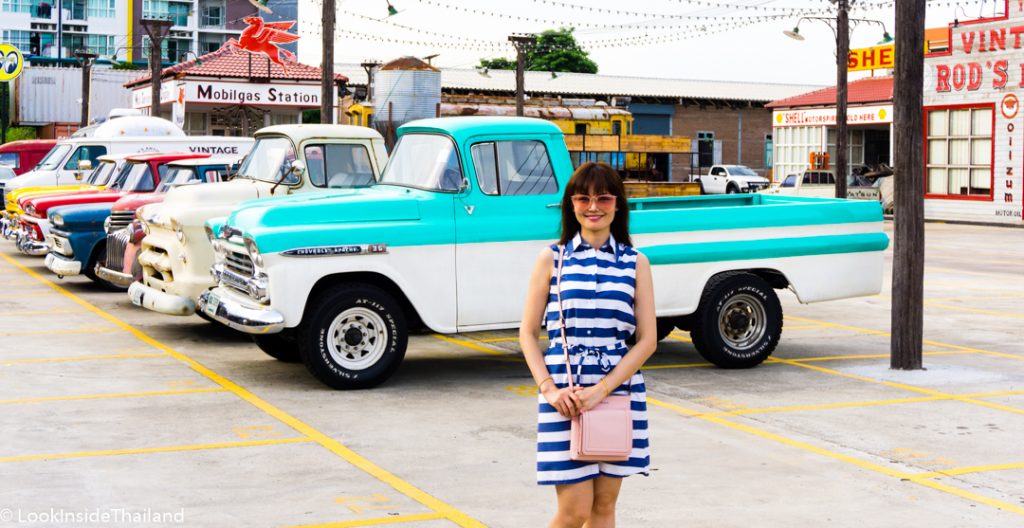 How do I get there?
Visiting Talad Rod Fai is not too difficult for foreigners. Located a little bit far away from the central areas of Bangkok and far away from the BTS Skytrain or MRT Subway. To beat the traffic and get there fast you should take the Airport Rail Link to the Hua Mak station. Once you get to Hua Mak, the market is about a fifteen minutes (6 km.) cab ride away!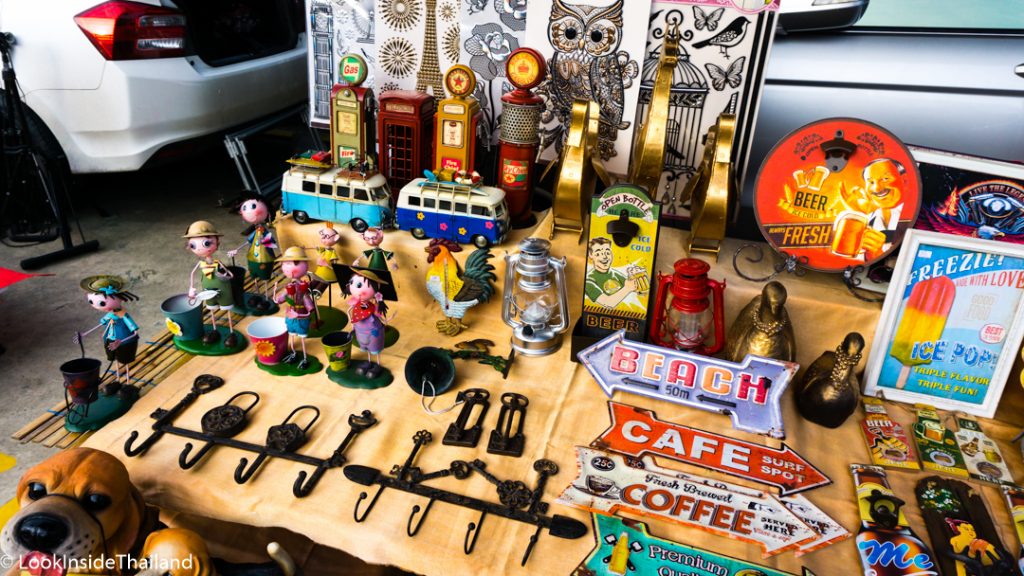 Have a great time!
♥♥♥ Namfon ♥♥♥